Wouldn't it be so much fun to watch your baby enjoy some of the most popular nursery rhymes on your Android device? It is delightful to see children under 5 years of age trying to sing-along. Their cute lisps, while trying to pronounce the words that are catchy in the song, are adorable. You will relax or do other chores, while your child is busy learning nursery rhymes.
What is Good About Baby Nursery Rhymes
This app plays the nursery rhyme in a loop while cute images depicting the subject are displayed. For example, the image shows alphabets, when the app plays the "ABCD" song. It features 17 nursery rhymes. Following the immense popularity of this app, more than three sequels have been launched, featuring other nursery rhymes. This app has an easy play and stop button. Arrow keys help to navigate to the next song. Some of the most popular nursery rhymes include ABCD Song, Hey Diddle Diddle, Doe A Deer, Hickory Dickory Dock and Old Macdonald Had A Farm.
What You'll Miss in Baby Nursery Rhymes
Baby Nursery Rhymes and its sequels are all free, but feature ads. Moreover, there are only images and no real animation while the song plays. The lyrics for the nursery rhymes are available for only a selective few.
Overall this app is simple and fun, with a good collection of nursery rhymes for your baby.
Baby Nursery Rhymes – ABCD Song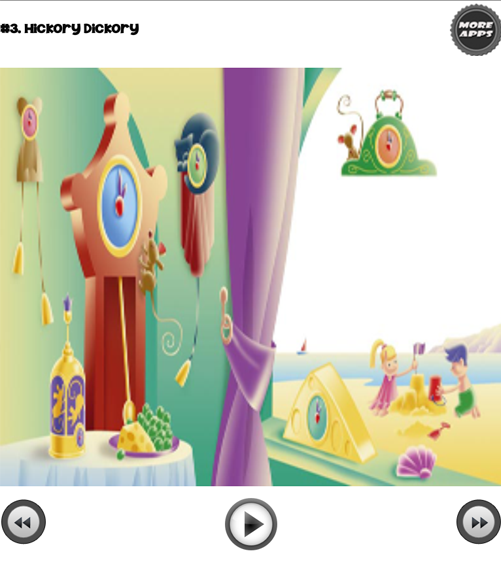 Pros
17 popular nursery rhymes
Simple interface
Easy navigation
Super easy play and pause buttons
Sequel apps available for free
Cons
Features ads
Only a few nursery rhymes feature lyrics
No real animation
Only one image per song