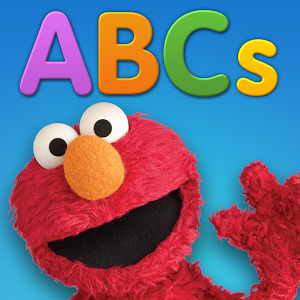 The Elmo Loves ABCs Android app is created by Sesame Workshop, which is a non profit educational organisation that has changed the way children learn by including multimedia content. This Android app uses one of the most popular characters, Elmo, from the Sesame Street TV series, as a decoy for the activities that teach alphabets. Engaging children in various ways, it teaches phonetics, shapes, colours and music, while helping kids to retain the alphabets.
What's Good About Elmo Loves ABCs Android App
This is an engaging app for children above three years of age, which deploys different types of techniques to hold their attention and teach them alphabets. Through the 80 Sesame Street videos, 75 colouring pages and 4 hide and seek games, the app teaches Letter Identification (uppercase and lowercase), Letter Sounds, Letter Tracing, Art and Creativity, and Music Appreciation. In addition, the different techniques appeal to multiple intelligences to teach and help recognize and recall the alphabets.
Secondly, the personalized feedback feature, which requires parents to upload the child's name, audio recording, video and photograph, helps to motivate the child. It makes it more interactive as the monsters now refer directly to the user and encourages him/her on the path to learning.
Thirdly, the grown-ups tracking feature allows parents and teachers to keep a track on the progress of the child, even if they are not around during the actual use of the app. This helps them to know which areas the child is especially adept at and which require their guidance. Therefore, the app functions at two levels of efficiency, one when a child engages with it alone; and second, when adult intervention is made available to increase the child's capacity to perform, understand and recall.
What's Missing in Elmo Loves ABCs Android App
Firstly, it is a huge file of 801MB and takes up a lot of space on your tablet or smartphone, which needs to have an Android version above 2.3.3 for it to be compatible. It also takes a while to install, depending upon the speed of the internet connection available. Moreover, many users have found it misleading, since after downloading the app, they realize that it functions as a demo for the first three alphabets only. In order to unlock the other alphabets and various other features, they are required to pay per item. This makes it fairly expensive for an educational kids game.
Pros
Deploys different techniques – audio-visual, colouring and shapes, hide and seek game – to teach letters, thereby reaching out to multiple intelligences
Personalized feedback helps motivate the child
Grown-up trackers help keep tabs on progress
Cons
Misleading, since the unpaid version is only a demo for three alphabets
It is expensive, given that it has a pay-per-item model, which means there are multiple payments required to unlock the features
At 801 MB, it is an extremely heavy file