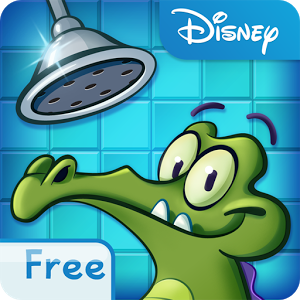 Where's My water? is a casual, award winning puzzle game with amazing life-like mechanics. Ideal for children between 6 to 9 years, this game offers a fresh platform to encourage learning and development in an artistic and offbeat way for your child. This wonderful, funny, addictive puzzler of an Android app is great to keep your child hooked for hours. This captivating water conservation puzzle focuses on problem solving and helps improve the analytical skills of your young one.
The protagonist of this kid's game is the Disney alligator, Swampy, who needs access to water for his broken shower. Your child will have to cut through dirt, guide fresh water, eliminate toxins and unhealthy water through increasingly challenging scenarios so that Swampy can have a healthy and clean shower. As the stages progress, the obstacles become more interesting and fun, by throwing in toxic sludge and water consuming algae in the mix. Your kid can rely on his/her physics skills to assess how water will behave on reacting with different type of impurities. Here is a complete app review of this game.
What's So Good About Where's My Water?
In the free to play version, your child has access to 15 plus levels of wet, soapy puzzles that can keep him engaged for a long time. If you want to the complete version that has up to 500 amazing, one of a kind puzzles, then you can get it by paying a marginal price at the Android App Store. The complete version will also unlock 4 unique characters with their own stories. These characters include Allie, Cranky, Mystery Duck and of course Swampy.
This game can help instill an inclination towards science and physics in children between 6 to 9 years, since it deals with water in all three forms. There also are additional collectibles, like rubber ducks, on each level, new challenges and bonus levels through which you can unlock several new features. Complete with high quality graphics, clean design, an appealing narrative style and engaging puzzles, you can go about your business uninterrupted by your child since he/she will be completely engaged in the game.
Since the problems focus on logic and reasoning, children can develop analytical skills along with certain basic concepts of science. The trial and error approach of the game can let your child make his/her own mistakes and learn gradually. Moreover, there are no violent or scary levels for parents to worry about. Multiple language integration is also available in several parts of the world, including English, French, Italian, Spanish, Japanese, etc.
Where We Missed in this Android App
Despite total engagement for children and several hours of creative, intelligent fun, there are a few areas where this puzzle game will let you down. The free to play trial version comes with very limited levels, after which you will need to purchase the complete game at an additional price. Moreover, you can only play with a single player in the free version. There is no multi-player option or the ability to maintain multiple profiles. Moreover, the high quality graphics can take up a lot of storage space (50 MB) on your tablet, which will keep increasing as you play.
Pros
Ensures that your child is engaged for several hours so that you can focus on other duties
Promotes learning of basic physics concepts as your child learns to distinguish between the three states of water
Helps develop basic conversation skills due to the interactive kids friendly nature of the narrative puzzle game
Improves the reasoning, analytical skills and problem solving ability of your child.
Works on trial and error approach.
Has close to 500 stages on purchasing the full version
Intuitive touch controls
Cons
Only 15 levels are available for free after which you will need to purchase the full version
Only single player option in the free version
No multi-player integration
Cannot maintain multiple profiles
Takes up a lot of storage space