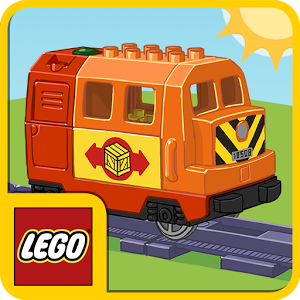 Do you remember the wonderful time you had as a child playing with a toy train complete with tracks and engine sounds? Wouldn't you want your child to have the same joyous childhood like you did? With a kids Android app developed by leading toy manufacturers and now pop culture icons LEGO you can do just this. The LEGO DUPLO Train application available on Android run tablets is a fun, entertaining kids game for children between the age of 2 to 5 years. A product of the DUPLO series which is an initiative for kids by LEGO, your young one can get a chance to play with virtual wagons, locomotives and trains.
What's Good about LEGO DUPLO Train?
Your child will be riding bright, colourful trains, from station to station which are off an animated and enthralling nature. The child can play as the train driver who has to manoeuvre around the lively town, loading and choosing which wagon and passengers to pick up on the way and where to unload them. Your toddler can also build bridges, stop at crossings for the animated wildlife to go about their business, refuel the train, and lay new tracks by eliminating the pesky rocks along the road. This cool, travel and adventure game instinctively appeals to children due to the burst of colours in the friendly scenery and landscapes.
The free to play game is simple, straightforward and interactive in nature making it easy for toddlers to understand. Your child will play the game in single scenes separated by different sequences, assisted by the interactive control panel. The intuitive interface is toddler friendly, complete with great animations, and amusing engine sounds and noises. This kids building and navigation game is free of in-app purchases and advertisements. Certain illustrations will require assistance from parents and the voice over, however the final action is always of the child. The backdrop is complimented by various plants, domestic animals, LEGO style trees, mountains and flowers. If your toddler is fascinated with trains, this game is an instant hit since it inspires hours of creative play and development, by promoting the improvement of fine motor skills. Mimicking the actions of grown ups, may pose to be vital in the early development of kids, and what better way than to drive a huge steam train like a grown up in the bright and lively LEGO countryside, all horns tooting.
What are the Shortcomings of the Android App?
Overall LEGO has made a fine game for toddlers, however there are areas that can be improved upon. When a long footage is played, there may be no actions required during which the screen turns off, that can be annoying to a child. The application also has the tendency to crash on low powered tablets. The gestures and actions aren't 100% responsive and may tend to misbehave from time to time.
Pros
Free to play with a simple and straightforward interface.
Involves kid friendly sceneries complete with great animations, sounds and bright, animated LEGO characters.
Interactive nature of the game helps improve development of motor skills and cognitive functions.
Taking on adult roles, helps in problem solving and tactical analysis of a situation.
Does not have any in application purchases and is free of advertisements.
Inspires creative development and expression.
Cons
Screen may turn off during long scenes where no action is required.
Regular crash fixes required.
Gestures aren't 100% responsive causing the screen to freeze suddenly.