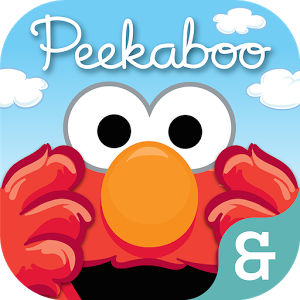 Are you confused about how to engage your toddler? The Peekaboo Sesame Street App from Day & Night Studios can help solve your problem. It follows the basic peek-a-boo format, with the Sesame Street characters showing up as the players tap on the screen. It has especially been designed for children below the age of 3. This app can help to keep your kid engaged and entertained.
What's Interesting about the Peekaboo Sesame Street App?
The Peekaboo Sesame Street Android App is made for the youngest Sesame Street fans. Kids can play peek-a-boo with the famous sesame street characters, including Elmo, the Cookie Monster, Super Grover, Abby Cadabby and others. Even Oscar the Grouch pops out of his trash can to say hello. The game is also backed by the original voices of the Sesame Street characters.
As your kid taps on the screen, the characters appear one by one. Your kid will have fun making predictions and it will make it irresistible for him/her not to tap to see who comes next. The names of objects and characters are shown on the screen, supported by text and audio pronunciation. This will help your child identify objects and their names. Your child will also learn cause and effect through this Android app, while also being able to practice speech.
There are two play modes – looped and storybook mode. Your child can play endlessly through the looped mode. This will keep him/her occupied and entertained for a long time. On the other hand, the storybook mode ends with Elmo and Abby Cadabby getting ready for bed, which makes it a good option to prepare your kid for bed. The app also provides parent tips that offer additional learning techniques and suggestions for parents to explore allied activities outside the tablet. The settings can only be accessed from the homepage by sliding in a certain direction, which makes it safe from the point of view of accidental access by toddlers.
What We Missed in the Peekaboo Sesame Street App?
Unlike other engaging toddler games, this game has limited play options, with only 8 Sesame Street characters and 8 objects, which make it repetitive. Moreover, it lasts for barely 15 minutes and your child might get bored too soon. The Peekaboo Sesame Street app also crashes often if the screen is tapped repeatedly, making smooth play difficult. This game is not worth the price tag it comes with. It would be more enjoyable for toddlers if it did more than just knocking on a door. It could also introduce shapes and colours for instance, to make it more interesting.
Pros
Original Sesame Street Characters and their voices
Name of objects and characters displayed along with text and backed with Voices
Looped and storybook mode
Parent tips and suggestions for activities outside the smart device.
Cons
Only 8 characters and 8 objects
Repetitive
Crashes often
No value for money