Whether it is about being safe or being fit, there are just too many Android apps flooding the market. But when you leave out these lifestyle apps, what can you do for fun on your tablet? Is there anything more than Temple Run and Candy Crush? Actually, there is a lot you can do apart from playing games or using the GPS. Connect with your gang of girls instantly or get help with a last minute "touch up" – a tablet becomes the essential friend in need for every 21st century girl. Here's how a tablet can help girls have all the fun.
Clothing and Accessories

Gone are the days when you and your bestie had to wait for the skies to clear on a rainy day or longingly mark the weekend after pay day in your desk calendar to go out shopping. Many online clothing/accessories retailers have launched their own tablet friendly apps, with a wide range of latest fashion wear available at the tap of a button. Moreover, there are many Android apps that talk about the latest trends in fashion and allow you to browse for what's in and what's not. Don't worry about money matters either because shopping through these apps also gets you the benefit of discounts or the option to pay via EMIs. And just in case you are not sure about what to buy, some retailers also allow the option to "try and buy."
Know about the Hottest Happenings in Town

How many times has it happened that your gang just couldn't decide where to go on a weekend and ended up at that pizza place or shopping mall nearby just like always? Well you don't need to do that anymore as there are Android apps for finding out the hottest gigs in town near you. You can find out about concerts, discotheques, food nights, fests and more at just the touch of your finger. Plus, such apps really help when you are travelling to new city and don't have a friend to show you around. Just pick up your tablet and explore the city with ease.
Getting Admired and Admire Yourself

You know how boys complain about makeup and the completely ignore the effort and time it took? Well, if you do it right, the same boys will be left gaping, but more importantly, you would know who really the "hot property" in town is. There are many Android apps available that give great beauty tips and even have the selfie camera transformed into your very own beauty parlour. Not only does your high quality camera help in the last minute touch up session outside the restaurant door but it also gets you that perfect selfie when you are looking your best. So upload it on Facebook and keep counting the number of "likes" that you get!
How Not to be Camera Conscious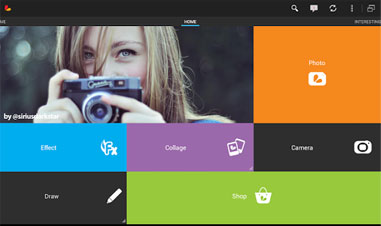 What's the use of carrying your tablet around if it can't get you awesome photos? Photos aren't clicked just for our Facebook profiles, they also capture memories for a lifetime. Whether it's the last group photo you had with your friends or that beautiful mountain scenery you saw on your last trip with the family, one good photo brings emotions flowing back in an instant, while one bad pic just makes us want to press the delete button frantically. So, how do we make sure that we get pics that are worth saving and savouring? Well, for that there are several applications that add effects, edit and frame our precious moments to make them just right. So, the next time you get your nail art done you won't have to worry about the perfect surroundings, since you can blur everything around your hands, adjust the lights, set the right frame and click a perfect photo – and all this from the comfort of your tablet. Sometimes your friends might be far away, hunched over their laptops or office computers, just like you, thinking of nothing else but work and how there's no more late stays with friends, teasing and talking about that cutie in class or just giggling when he suddenly walks by. But with your tablet, all it takes is just one tap of a button, one little button that sends a photo to the whole group from those wonderful days and all the memories come rushing back. That's the feeling of pure unadulterated happiness. And that's how tablets let girls have all the fun. Happy sharing!