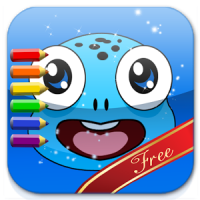 This app has more than 400 unique background pictures that are really fun to color for your kids. Also, it would be soothing for your nerves to know that there won't be any paint on the floor or graffiti on your walls! And, you won't have to run around every few days trying to buy crayons, sketch pens or poster colors! All this and more from Kids Coloring-Kids Paint, a great Android app to keep for your child busy, while developing creative skills. This app is best for kinds below 5 years of age and has the cutest cartoon-like pictures to color and a user-friendly interface that has just the right ingredients to keep your child busy for hours, especially useful while you are traveling with your child.
What's Good About Kids Coloring-Kids Paint
It has over 400 background images for coloring as well as elements to add to the picture. The convenient user interface, with coloring tools that are easy to use for children will allow them to paint all day long. The pictures are child-friendly and fun. Some of the pictures included have popular cartoon characters, such as Pokemon and Flounder from Disney's 
The Little Mermaid
. The child has the creative liberty to choose any color they want to and paint any element in the picture. The coloring system helps the child to identify colors and figure out color combinations in the most adventurous way possible. Children can add elements such as animals on an already ready background. One interesting feature is the background music that plays on the app, which is not only soothing for the child but prevents any distractions.
What You'll Miss in Kids Coloring-Kids Paint
The app is ad supported, which may distract the child. Kids Coloring-Kids Paint only has a color-fill mode and does not allow a child to draw. Also, there is no movie mode that plays a child's process of coloring the picture. This Android app has a lot of potential and might be great for keep your kids busy while you get work done. It has a wide range of images that keeps the child engaged for several coloring sessions.
Pros
Over 400 images
Easy interface
Child-friendly and familiar images
Helps kid learn about colors
Creative liberty
Background music
Built-in icons for add-ons
Cons
No movie mode
Distracting ads
Singular color-fill mode