No, this is not another Ted Mosby telling his kids about how he met their mother! Nor is this about the cheesy movie Ted, in which the bear is anything but cute. If you're looking for a short break from your daily routine of writing emails, attending meetings and negotiating deals, here's something that gives you a chance to enjoy your 'think time'.
What TED Talks?
TED Talks started in 1984, with an aim of spreading creative ideas through brief talks. These talks are short, typically under 20 minutes and are given by some of the most innovative, motivating and fascinating people, ranging from tech gurus to music legends.

TED Talks brings together great minds from diverse cultures, backgrounds, job profiles and life experiences. The one thing that these people have in common, though, is their passion to change the world.
Who is Listening?
The impact that the great orators have on the audience is quite evident from the immense popularity of TED Talks. Within a few years, this initiative crossed the mark of a million followers. Keeping in mind this great following, various projects have commenced under the aegis of TED Talks, like TED cash and TED prize, to attract new innovative ideas.
Who is TED Anyway?
TED is really an acronym for Technology, Education and Design, which are the three domains that this initiative began by covering. Today, the talks span a array of fields, from business to spirituality.
TED Talks in India
Although TED Talks started out in the US, now these sessions are held across the globe. Some of the most popular TED Talks in India include: Nirmalya Kumar: India's Invisible Innovation Kiran Bedi: How I Remade One of India's Toughest Prisons Pranav Mistry: The Thrilling Potential of Sixth Sense Technology Arvind Gupta: Trash's Fun Shekhar Kapur: Panicking Over Creative Juices and Shashi Tharoor: Go Soft on Hard Power
TED Talks at the Tap of Your Fingertip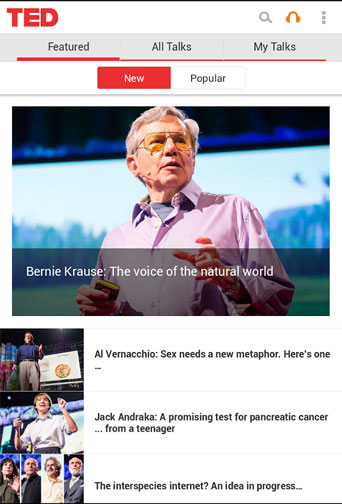 Every year TED Talks are held on diverse topics and in different parts of the world. So, how do you keep up? Fret Not… there's an Android app that brings these fascinating talks to your home or wherever you are. You will find a great collection of close to 2,000 TED Talks and can sync up the app to receive new videos every week. The Android app also gives you the option of categorizing your favourite ones as 'My Talks'. So, enjoy your own jukebox of videos. Learn, think and get inspired. Get over Arnab Goswami and his debates on national issues. It's time to go global. Whether you are an entrepreneur, an executive or a student, these talks open a whole new world for you. Hear from some of the elite minds of our times and know their views on how to shape our world. Engaging orators, talking about their experience in various fields and sharing their innovative ideas, now have a presence on your tablet.